 Export
Print

Create CMAP
General Course Information and Notes
Version Description
In Algebra 1 Honors, instructional time will emphasize five areas: (1) performing operations with polynomials and radicals, and extending the Laws of Exponents to include rational exponents; (2) extending understanding of functions to linear, quadratic and exponential functions and using them to model and analyze real-world relationships; (3) solving quadratic equations in one variable and systems of linear equations and inequalities in two variables; (4) building functions, identifying their key features and representing them in various ways and (5) representing and interpreting categorical and numerical data with one and two variables.
All clarifications stated, whether general or specific to Algebra I Honors, are expectations for instruction of that benchmark.
Curricular content for all subjects must integrate critical-thinking, problem-solving, and workforce-literacy skills; communication, reading, and writing skills; mathematics skills; collaboration skills; contextual and applied-learning skills; technology-literacy skills; information and media-literacy skills; and civic-engagement skills.
General Notes
Honors and Accelerated Level Course Note: Accelerated courses require a greater demand on students through increased academic rigor.  Academic rigor is obtained through the application, analysis, evaluation, and creation of complex ideas that are often abstract and multi-faceted.  Students are challenged to think and collaborate critically on the content they are learning. Honors level rigor will be achieved by increasing text complexity through text selection, focus on high-level qualitative measures, and complexity of task. Instruction will be structured to give students a deeper understanding of conceptual themes and organization within and across disciplines. Academic rigor is more than simply assigning to students a greater quantity of work.
Florida's Benchmarks for Excellent Student Thinking (B.E.S.T.) Standards
This course includes Florida's B.E.S.T. ELA Expectations (EE) and Mathematical Thinking and Reasoning Standards (MTRs) for students. Florida educators should intentionally embed these standards within the content and their instruction as applicable. For guidance on the implementation of the EEs and MTRs, please visit https://www.cpalms.org/Standards/BEST_Standards.aspx and select the appropriate B.E.S.T. Standards package.
English Language Development ELD Standards Special Notes Section:
Teachers are required to provide listening, speaking, reading and writing instruction that allows English language learners (ELL) to communicate information, ideas and concepts for academic success in the content area of Mathematics. For the given level of English language proficiency and with visual, graphic, or interactive support, students will interact with grade level words, expressions, sentences and discourse to process or produce language necessary for academic success. The ELD standard should specify a relevant content area concept or topic of study chosen by curriculum developers and teachers which maximizes an ELL's need for communication and social skills. To access an ELL supporting document which delineates performance definitions and descriptors, please click on the following link: https://cpalmsmediaprod.blob.core.windows.net/uploads/docs/standards/eld/ma.pdf
General Information
Course Number: 1200320
Course Path:
Abbreviated Title: ALG 1 HONORS
Number of Credits: One (1) credit
Course Length: Year (Y)
Course Attributes:
Honors
Class Size Core Required
Course Type: Core Academic Course
Course Level: 3
Course Status: State Board Approved
Grade Level(s): 9,10,11,12
Graduation Requirement: Algebra 1
Educator Certifications
One of these educator certification options is required to teach this course.
Equivalent Courses
Any of these are equivalent to the course required for graduation or certification.
State Adopted Instructional Materials
The following instructional materials have been adopted by the State of Florida as an option for this course.
Florida Algebra I Honors
Author: Agile Mind, the Charles A. Dana Center at the University of Texas at Austin - Company: Agile Mind Educational Holdings, Inc. - Edition: 2021 - Copyright: 2021
Florida Reveal Algebra 1
Author: Cathy L. Seeley , Ed.D; Raj Shah, Ph.D.; Cheryl R. Tobey, M.Ed.; Dinah Zike, M.Ed.; Walter Secada, Ph.D. - Company: McGraw Hill LLC - Edition: 1 - Copyright: 2023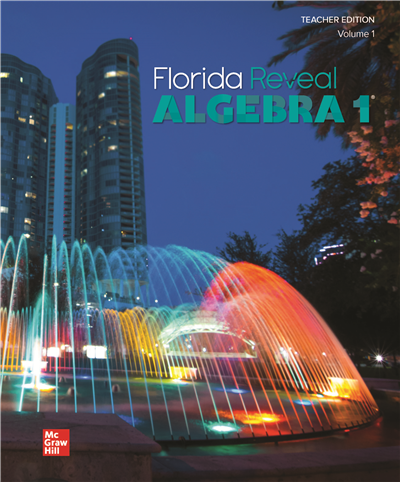 HMH Florida's B.E.S.T. Into Algebra 1
Author: Edward B. Burger, PhD; Juli K. Dixon, PhD; Timothy D. Kanold, PhD; Matthew R. Larson, PhD; Steven J. Leinwand, PhD; Robert Kaplinsky, MEd - Company: Houghton Mifflin Harcourt - Edition: N/A - Copyright: 2023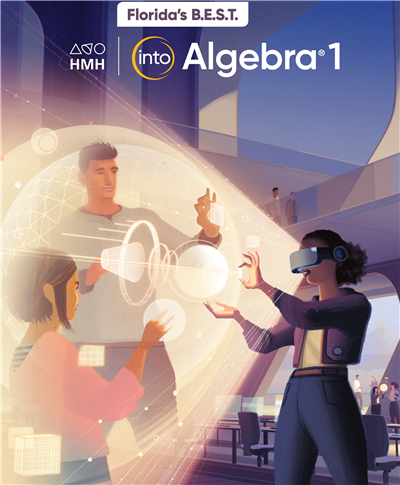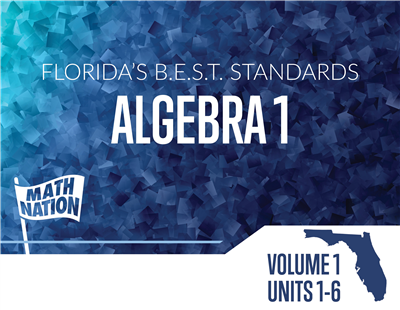 Student Resources
Vetted resources students can use to learn the concepts and skills in this course.
Original Student Tutorials
Lesson Plans
Holidays that Celebrate America:
In this lesson plan, students will explore the history and meaning behind various patriotic holidays and make personal connections with those holidays including, Constitution Day, Memorial Day, Veteran's Day, Patriot Day, President's Day, Independence Day, and Medal of Honor Day.
Type: Lesson Plan
Do Credit Cards Make You Gain Weight? What is Correlation, and How to Distinguish It from Causation:
This lesson introduces the students to the concepts of correlation and causation, and the difference between the two. The main learning objective is to encourage students to think critically about various possible explanations for a correlation, and to evaluate their plausibility, rather than passively taking presented information on faith. To give students the right tools for such analysis, the lesson covers most common reasons behind a correlation, and different possible types of causation.
Type: Lesson Plan
Interpret Population Data with Graphs and Tables:
Students will use the calculated population totals to create graphs that help to visualize the totals for analyzing and representation. Census data is used as the data to provide information to analyze. Students will then use basic functions and formulas in spreadsheets to help analyze and represent the data.
Type: Lesson Plan
Perspectives Video: Experts
Jumping Robots and Quadratics:
Jump to it and learn more about how quadratic equations are used in robot navigation problem solving!
Type: Perspectives Video: Expert
Problem Solving with Project Constraints:
It's important to stay inside the lines of your project constraints to finish in time and under budget. This NASA systems engineer explains how constraints can actually promote creativity and help him solve problems!
Type: Perspectives Video: Expert
Perspectives Video: Professional/Enthusiasts
Text Resources
Tutorials
Video/Audio/Animations
Parent Resources
Vetted resources caregivers can use to help students learn the concepts and skills in this course.