 Export
Print

Create CMAP
General Course Information and Notes
Version Description
The benchmarks in this course are mastery goals that students are expected to attain by the end of the year. To build mastery, students will continue to review and apply earlier grade-level benchmarks and expectations.
General Notes
In grade 7, instructional time will emphasize five areas: (1) recognizing that fractions, decimals and percentages are different representations of rational numbers and performing all four operations with rational numbers with procedural fluency; (2) creating equivalent expressions and solving equations and inequalities; (3) developing understanding of and applying proportional relationships in two variables; (4) extending analysis of two- and three-dimensional figures to include circles and cylinders and (5) representing and comparing categorical and numerical data and developing understanding of probability.
Curricular content for all subjects must integrate critical-thinking, problem-solving, and workforce-literacy skills; communication, reading, and writing skills; mathematics skills; collaboration skills; contextual and applied-learning skills; technology-literacy skills; information and media-literacy skills; and civic-engagement skills.
English Language Development ELD Standards Special Notes Section:
Teachers are required to provide listening, speaking, reading and writing instruction that allows English language learners (ELL) to communicate information, ideas and concepts for academic success in the content area of Mathematics. For the given level of English language proficiency and with visual, graphic, or interactive support, students will interact with grade level words, expressions, sentences and discourse to process or produce language necessary for academic success. The ELD standard should specify a relevant content area concept or topic of study chosen by curriculum developers and teachers which maximizes an ELL's need for communication and social skills. To access an ELL supporting document which delineates performance definitions and descriptors, please click on the following link:
https://cpalmsmediaprod.blob.core.windows.net/uploads/docs/standards/eld/ma.pdf
General Information
Course Number: 1205040
Course Path:
Abbreviated Title: M/J GRADE 7 MATH
Course Type: Core Academic Course
Course Level: 2
Course Status: State Board Approved
Educator Certifications
One of these educator certification options is required to teach this course.
State Adopted Instructional Materials
The following instructional materials have been adopted by the State of Florida as an option for this course.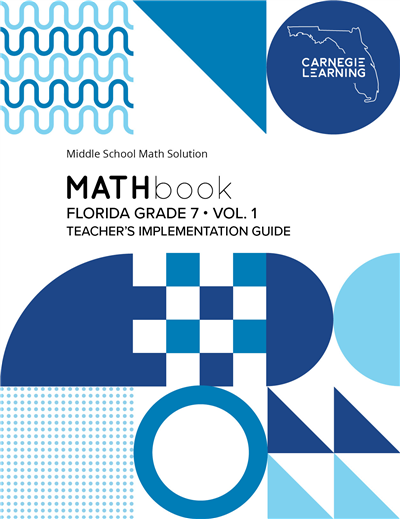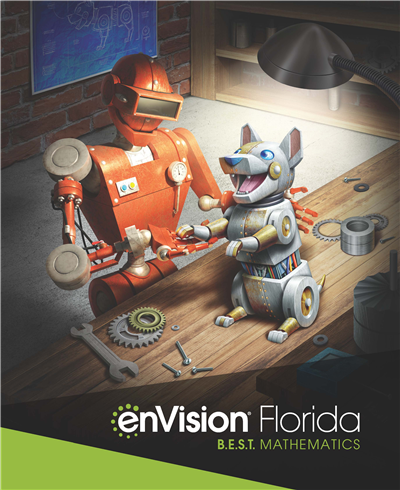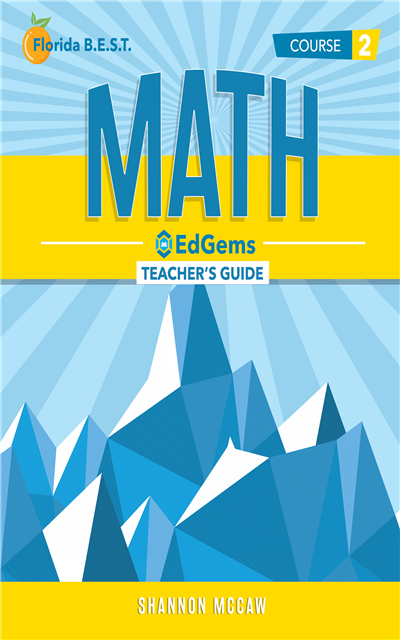 Florida Reveal Math, Grade 7
Author: Cathy L. Seeley , Ed.D; Raj Shah, Ph.D.; Cheryl R. Tobey, M.Ed.; Dinah Zike, M.Ed.; Walter Secada, Ph.D. - Company: McGraw Hill LLC - Edition: 1 - Copyright: 2023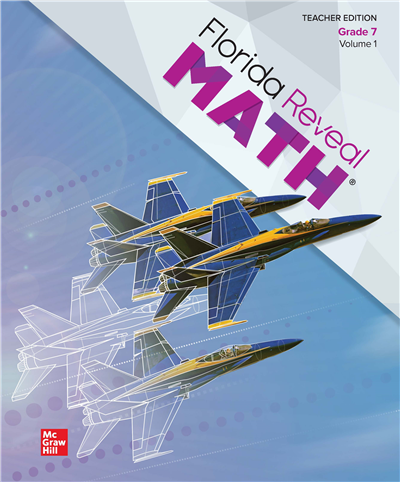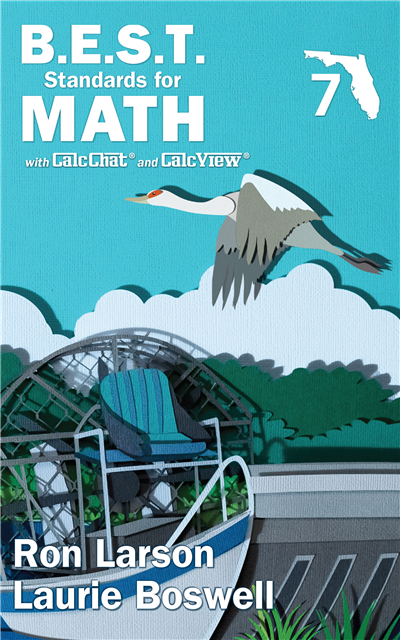 HMH Florida's B.E.S.T. Into Math
Author: Edward B. Burger, PhD; Juli K. Dixon, PhD; Timothy D. Kanold, PhD; Matthew R. Larson, PhD; Steven J. Leinwand, PhD - Company: Houghton Mifflin Harcourt - Edition: N/A - Copyright: 2023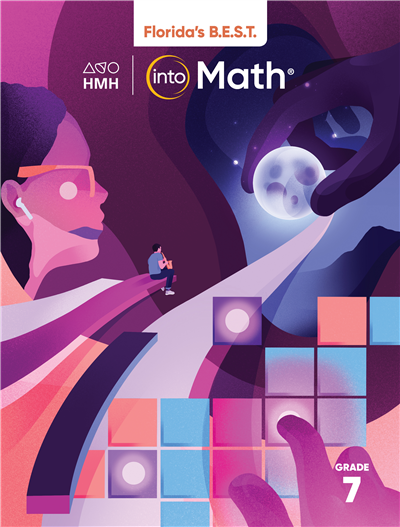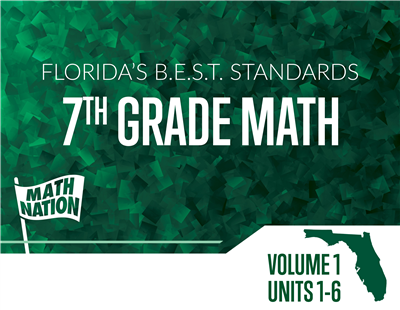 Student Resources
Vetted resources students can use to learn the concepts and skills in this course.
Original Student Tutorials
Educational Games
Fraction Quiz:
Test your fraction skills by answering questions on this site. This quiz asks you to simplify fractions, convert fractions to decimals and percentages, and answer algebra questions involving fractions. You can even choose difficulty level, question types, and time limit.
Type: Educational Game
Estimator Quiz:
In this activity, students are quizzed on their ability to estimate sums, products, and percentages. The student can adjust the difficulty of the problems and how close they have to be to the actual answer. This activity allows students to practice estimating addition, multiplication, or percentages of large numbers. This activity includes supplemental materials, including background information about the topics covered, a description of how to use the application, and exploration questions for use with the java applet.
Type: Educational Game
Educational Software / Tool
Arithmetic Quiz:
In this activity, students solve arithmetic problems involving whole numbers, integers, addition, subtraction, multiplication, and division. This activity allows students to track their progress in learning how to perform arithmetic on whole numbers and integers. This activity includes supplemental materials, including background information about the topics covered, a description of how to use the application, and exploration questions for use with the java applet.
Type: Educational Software / Tool
Lesson Plan
Holidays that Celebrate America:
In this lesson plan, students will explore the history and meaning behind various patriotic holidays and make personal connections with those holidays including, Constitution Day, Memorial Day, Veteran's Day, Patriot Day, President's Day, Independence Day, and Medal of Honor Day.
Type: Lesson Plan
Perspectives Video: Experts
Perspectives Video: Professional/Enthusiasts
Text Resources
Tutorials
Video/Audio/Animations
Solving Motion Problems with Linear Equations:
Based upon the definition of speed, linear equations can be created which allow us to solve problems involving constant speeds, time, and distance.
Note: This video exceeds basic expectations for the mathematical concept(s) at this grade level. The video is intended for students who have demonstrated mastery within the scope of instruction who may be ready for a more rigorous extension of the mathematical concept(s). As with all materials, ensure to gauge the readiness of students or adapt according to student's needs prior to administration.
Type: Video/Audio/Animation
Parent Resources
Vetted resources caregivers can use to help students learn the concepts and skills in this course.